In 2010, Democrats were facing the obstacles of a GOP filibuster and reconciliation rules. So, the Senate majority leadership let the Pelosi's House pass the Affordable Care Act, while they began work on their own proposals.
Sound familiar?
Not quite, because most outlets are reporting today's Republican Senate developments with salacious headlines that are misleading people. Headlines like, "Senate won't vote on House-passed bill," "While Trump Was Celebrating Senate Republicans Killed The House Health Care Bill," and "Senate Reportedly Won't Even Vote on House Health Care Bill" left many of us going, "huh?"
The reality is that while the president was jubilantly celebrating the partial passage of the American Health Care Act in the House, the Senate was already working on it's own deal. And, that's ok. In fact, that's normal on big, comprehensive issues. The doomed comprehensive immigration reform of 2006 started out as H.R. 4437 and S. 2611, while the ACA started out as H.R. 3590, while the Senate used 3590 as their vehicle (in a twist, 3590 was actually a House bill they amended by gutting, and completely changing, then sent back to the conference committee).
It's a page right out of the Democrats' playbook from 2010, when the Senate and House each created their own bills, hashed out the details in joint committee, then united the two in reconciliation. Here's how it went down:
The Senate approved their bill on December 24, 2013, 60-39, separate from the House's bill. Three weeks later, Scott Brown won his special election in Massachusetts, to take late Sen. Edward Kennedy's empty spot, giving the Republicans a 41 vote filibuster. House Democrats had expected to be able to negotiate changes in a House-Senate conference before passing a final bill, until Brown's win. Since any bill that emerged from conference that differed from the Senate bill would have to pass the Senate over the Republican filibuster, most House Democrats agreed to pass the Senate bill on condition that it be amended by a subsequent bill. They drafted the Health Care and Education Reconciliation Act, which could be passed by the reconciliation process.
Now, does this three-part process sound familiar?
It should. It's the current GOP proposal.
Yes, it's a mind bender to comprehend, which doesn't help. But misleading headlines are good for no one except the web traffic guys. Since most people never get past the headline, I would prefer to avoid adding to the truth problem.
Currently, an unspecified "working group" of 13 Republican Senators are hashing out their own proposals. Besides Sens. Cornyn (R-TX) and Blunt (R-MO), all we know of the other members are that they're from the Finance, Budget, and the Health, Education, Labor and Pensions (HELP) committees. The chairs of each are Orrin Hatch, Mike Enzi and Lamar Alexander, respectively.
****UPDATE:****
The working group has been announced as Sens Mitch McConnell, John Cronyn, John Thune, John Barrasso, Lamar Alexander, Mike Enzi, Orrin Hatch, Ted Cruz, Mike Lee, Tom Cotton, Corey Gardner, Rob Portman and Pat Toomey.
Their American Conservative Union scores can be found HERE.
Their Heritage scores can be found HERE. 
******************
The most conservative members of these three committees are Mike Crapo (UT), Rand Paul (KY) and Tim Scott (SC). Whatever comes out of the Senate will surely be challenging for the conservatives and the House Freedom Caucus to swallow. But, I would ask my fellow conservatives to find a place of pragmatic principle here, where it's possible to both stand for the right position, and fight to move the needle, still accepting that not everyone is going to agree where we land. Especially with such a slim majority in the Senate (Democrats had between 59 and 60 votes, we have only 52).
Too often, we think in a simplistic manner, that if we win an election, it means the most conservative legislation must go through, or we've been betrayed. Yet, the progressives have managed incremental change for at least the last 150 years. It works for them. We should take a few lessons and do the same. Anyone who has governed by committee understands the challenges of moving forward with the strong heads of others you think are on your side. I hope that our most conservative senators, can have their effect on this process, but any baby steps are an improvement over the status quo. Right now, Sens. Rand Paul, Ted Cruz, Mike Lee, Mike Crapo, Marco Rubio and Ben Sasse are the most conservative members in office. Sen. Paul is the only one on any of these committees writing the legislation. I've linked each name to their contact page.
It's ok to take our time to do this right, but we need to understand that doing it right doesn't always mean doing it perfect, all at once. We also need to win at least another 4-5 Senate seats next year.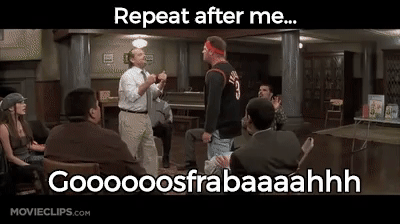 Let's keep cool heads, continue the pressure, and by God, keep the headlines honest.