Donald Trump may have breached Hillary Clinton's firewall with a surprise early voting surge in North Carolina. Without the Tar Heel state, Trump will face a difficult task winning just about every competitive battleground, but with it, he could win the White House.
More Democrats have voted than Republicans in N.C., but Trump has outperformed Mitt Romney, while Clinton has underperformed Barack Obama in their 2012 matchup, according to CNN.
Less Democrats have voted early by 5.8 percent, while 0.4 percent more Republicans voted early. The big gains may be with independent voters, with an increase of 5.3 percent, expected to heavily favor Trump. That's a spread of 11.5 points. Even if Trump only gets half of the independents, he's still got better than an 8.5 point head start on Clinton, compared to Obama's lead in 2012.
In 2012, Obama took N.C. by just over 2 percent, or 92,004 votes. More than 3.1 million have voted early this year, that's 326,000 more than 2012–far more than enough to swing the race.
Another key indicator is the number of African-Americans voting early. According to the Charlotte Observer, 69,000 fewer African-Americans voted early compared to 2012, and 322,000 more whites voted early.
[Florida political scientist Michael] McDonald said that makes the state an aberration among three other Southern states. In Florida, Georgia and Louisiana, he said, black early voting turnout is up by at least 17,000 votes from 2012.

"North Carolina is the only state that had a decline in African-American participation in early voting," he said Sunday. "It seems like something went awry in North Carolina."

Because most African-Americans vote Democratic, black turnout is considered a key for Democrats. "There's certainly been a lack of enthusiasm for Hillary Clinton as compared to Barack Obama," Duke University political scientist Kerry Haynie said last week.
Clinton should not look to Hispanics for her salvation in North Carolina, as she has in Florida and Nevada. The state has only 164,000 registered Hispanic voters, and about a third voted early. Even with 100 percent turnout on election day, there's just not enough to move the needle.
With a victory in N.C., the electoral math changes. Based on my prediction of a Trump loss 283 to 255, if Trump wins there, he wins the White House, 270-268.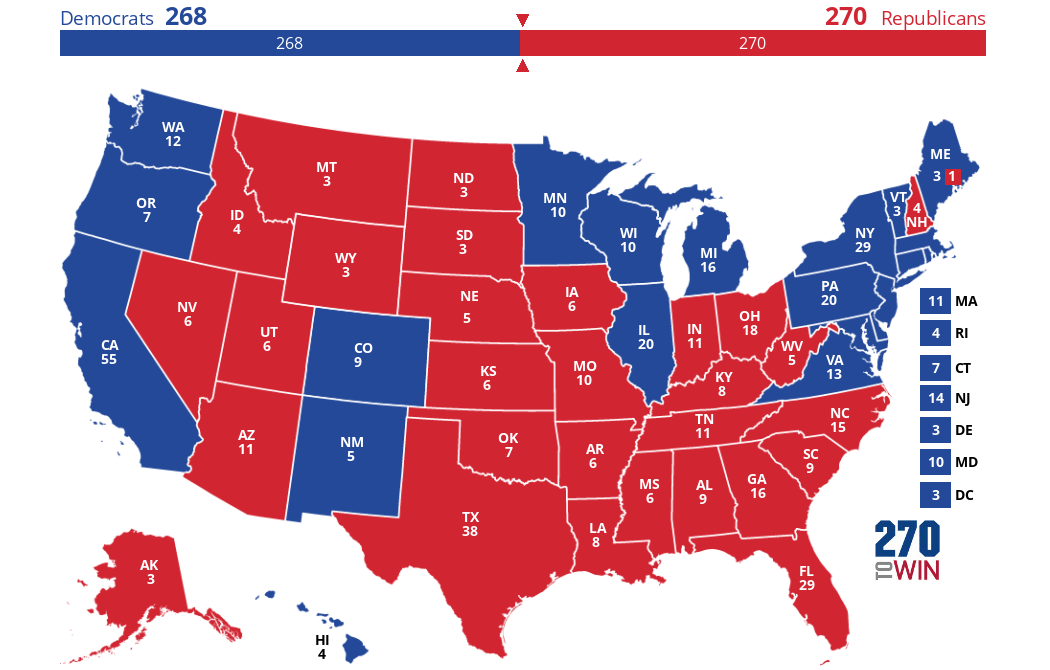 Click the map to create your own at
270toWin.com