I will keep nothing from you. I will tell you the truth. I have real data and it is really bad news.
In Georgia, a state Mitt Romney won 53% to Barack Obama's 45%, the Washington Post battleground poll has Georgia going for Hillary Clinton by four points.
But that is not the news. The real news is that a credible, internal Republican poll in Georgia has Hillary Clinton up five points on Donald Trump.
What's more, Clinton is now more likely to win Texas than Trump is to win Pennsylvania.
In both the cases of Georgia and Texas, I think Donald Trump ultimately wins. But there are a couple of things to consider. First, Donald Trump really is an amazingly bad nominee. Second, when Donald Trump is already telling people that the election is being rigged and stolen, he takes away his voters' incentive to even participate in the process.
The Georgia dynamic, about which I am most familiar, is very problematic for the Trump campaign. Trump is winning parts of Georgia outside metro-Atlanta by 20%, but he is losing the metro-Atlanta area by more than 20%. He is losing women in the metro-Atlanta area by more than 30%. Wealthy Republicans, empty-nest Republicans, and moderates are either voting third party or they are voting Clinton.
This explains why Priorities USA is suddenly entering Georgia.
Likewise, Hillary Clinton, even without Arizona, Georgia, Florida, Iowa, Nevada, North Carolina, and Utah (!!!), already has 270 electoral college votes. There is an increasing likelihood that Evan McMullin will win Utah, which will be the first time since 1968 that a third party or independent candidate wins a state.
Donald Trump told us he would shake up the electoral map. He sure has.
Republicans need to focus on saving the House and Senate. The White House is gone.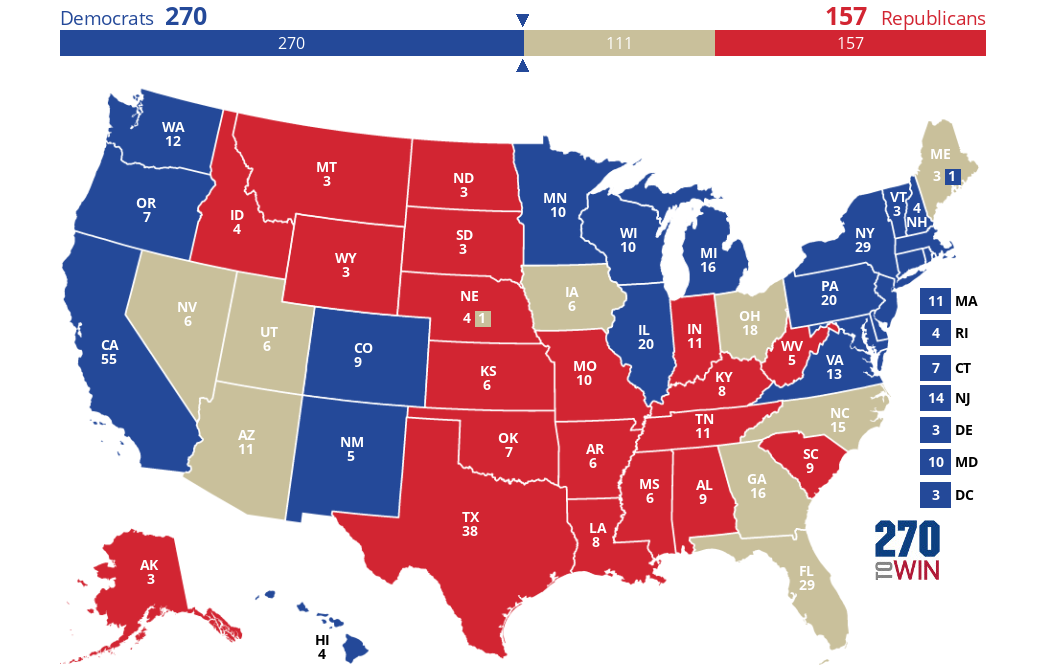 Click the map to create your own at
270toWin.com